Denny's

909 West Pasadena
Open 24 Hours
Open 24 Hours
Open 24 Hours
Open 24 Hours
Open 24 Hours
Open 24 Hours
Open 24 Hours
Phone
Hours
Store Hours:
| Day of the Week | Hours |
| --- | --- |
| Mon | Open 24 hours |
| Tue | Open 24 hours |
| Wed | Open 24 hours |
| Thu | Open 24 hours |
| Fri | Open 24 hours |
| Sat | Open 24 hours |
| Sun | Open 24 hours |
Hours may vary due to mandated curfews.
Hours
Store Hours:
| Day of the Week | Hours |
| --- | --- |
| Monday | Open 24 hours |
| Tuesday | Open 24 hours |
| Wednesday | Open 24 hours |
| Thursday | Open 24 hours |
| Friday | Open 24 hours |
| Saturday | Open 24 hours |
| Sunday | Open 24 hours |
Hours may vary due to mandated curfews.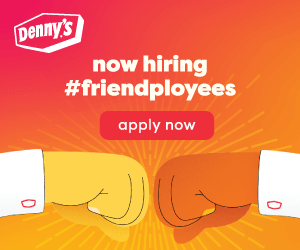 FEATURED MENU
Super Slam™

Pumpkin Pecan Pancake Slam®

Moons Over My Hammy®
PROMOS
Denny's Rewards

Join today and receive the latest news, offers and exclusive promotions. Receive 20% off your next visit when you sign up.

Kids Eat Free

Kids Eat Free days and restaurant participation may vary by location. Restrictions may apply.

DINER DRIP

Like taking our unique style from the kitchen to your closet with the launch of our online merch store with swag you can't get anywhere else. All inspired by America's diner.​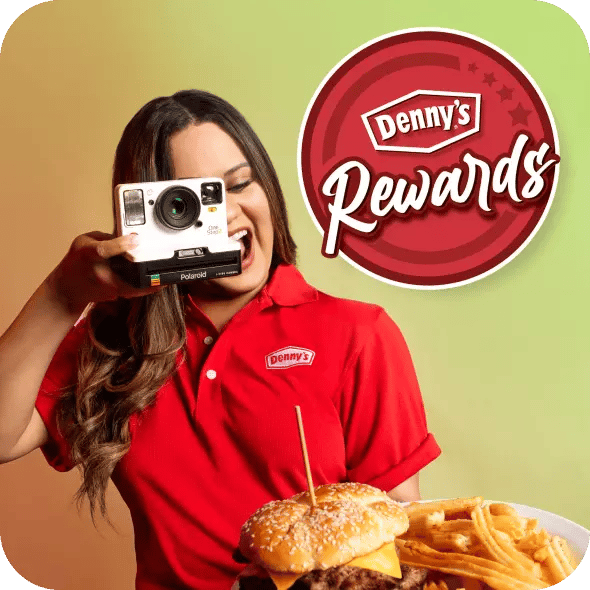 SIGN UP FOR
Denny's Rewards
Being a rewards member just got more delicious! We have made some updates to our program. Join today and get
20% off your Next Visit
Free Birthday Slam Every Year
NEW Exclusive Opportunities for even more rewards
Denny's | Super Slam™ 7.99
Try our Super Slam™, and for a limited time upgrade your pancakes to Pumpkin Pecan on any Slam!
Recent Reviews
4.2 out of 5.0
(7 Reviews)
Courteous waitstaff. Great food prompt service / food
Excellent prices

Response from Denny's

2/9/20

Thank you so much for your feed back hope to see you soon

This Denny's is the best in Southeast Houston. It's not even up for debate...I've been a patron for 8 years and I've never had a problem with service, food, or atmosphere. There are quality employees and management there to envy. I'm too lucky that I live nearby!

Everything was great but I think you would get more take out business if address said 225 Pasadena hwy. When it comes up on map it's not in the right place because there is a Pasadena Blvd also. And people probably think it's much further away from the plants than it really is.

Always happy with service
Displaying reviews 1 - 4 out of the 4 most recent
ABOUT DENNY'S West Pasadena
Welcome to America's Diner®. We've always been there for anyone that's looking for a little comfort. When you're in the mood for some fluffy late-night pancakes. When you're seeking an adventure for your taste buds or the comfort of a classic. No matter who you are, where you are, what you need, or why you need it. When you're craving breakfast, lunch, dinner, or anything in between, At Denny's...It's Diner Time.
It's the place where people can relax and be themselves while enjoying classic American comfort food and everyday value. Whether it's appetizers, breakfast, lunch or dinner, we pride ourselves in serving our guests the diner food they love including favorites like the Signature Breakfasts, Sizzlin' Skillets, Hand-Dipped Milk Shakes, 100% Beef Burgers and the world-famous Grand Slam®, OR our NEW limited time Pumpkin Pecan Pancake Slam®. Dine in or bring the diner home to feed the fam by ordering online through Dennys.com or our Mobile App.
Denny's prides itself in offering delicious food at a price you can afford. We're taking it one step further and making a whole new menu for it! Denny's All Day Diner Deals menu is packed with deal-icious meals like America's biggest breakfast - the Super Slam™! That's value you can enjoy. All day. Every day.
At This Location
Round-the-clock breakfast
Lunch & Dinner
Walk-ins welcome
Good for groups
Good for kids
Take out